Your own private spa with hammam, jacuzzi and fish therapy in Uccle. Indulge in complete relaxation for a few hours at Spa & Lounge 383, a private wellness center for 1 up to 4 people.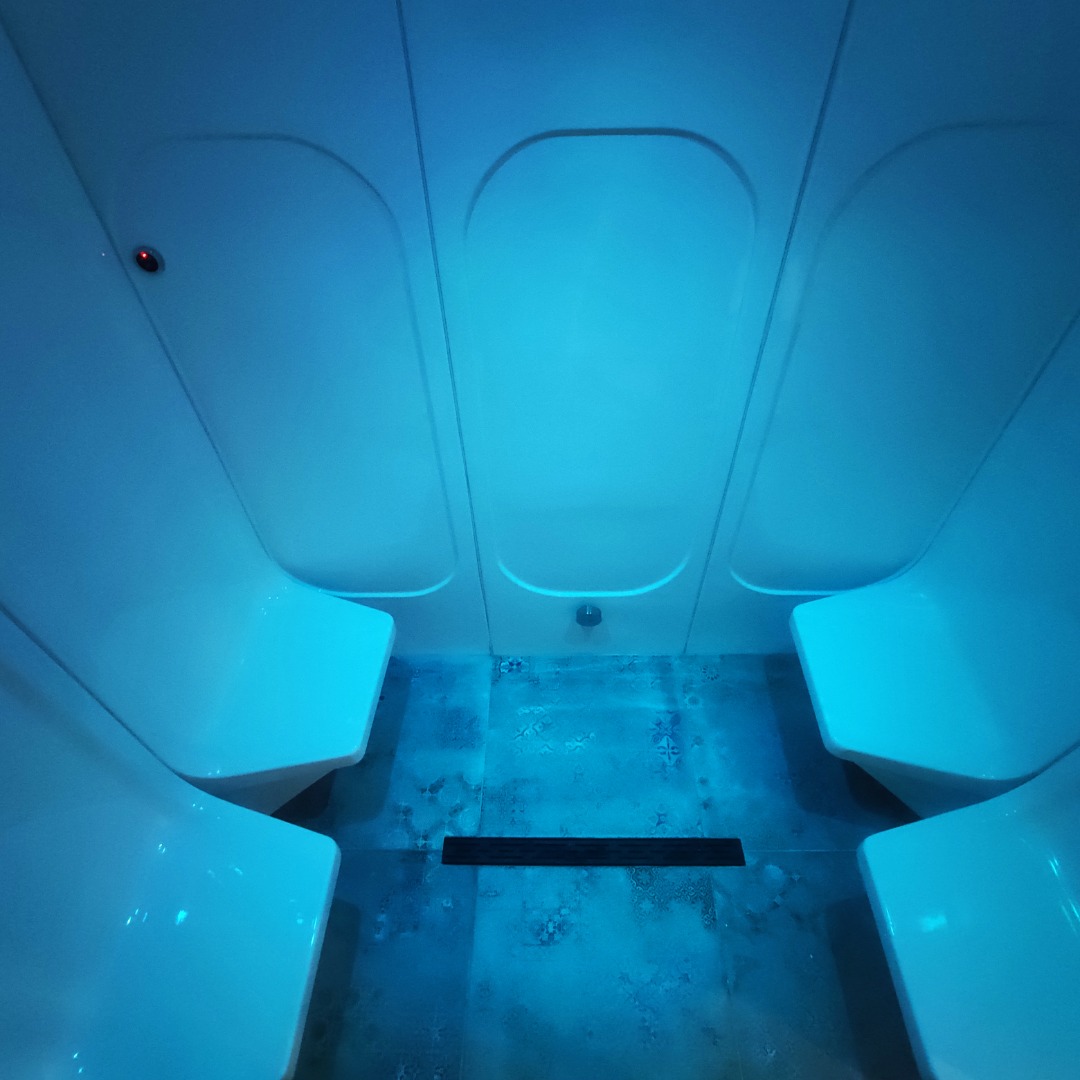 Enjoy our professional hammam, or Turkish steam bath, for up to 4 persons, and boost your immune system while enjoying the beneficial effects of the scented eucalyptus steam and the relaxing lights. A hammam session is the perfect way for a physical and emotional detox. Reduce stress and anxiety and indulge in deep relaxation, nourish your skin, decrease muscle tension and boost your immune system, taking your time in our finest hammam, including dimmed lighting and aromatherapy. And after the enjoying the steam bath, make you skin smooth like a baby with our professional biological black soap and/or coffee scrub.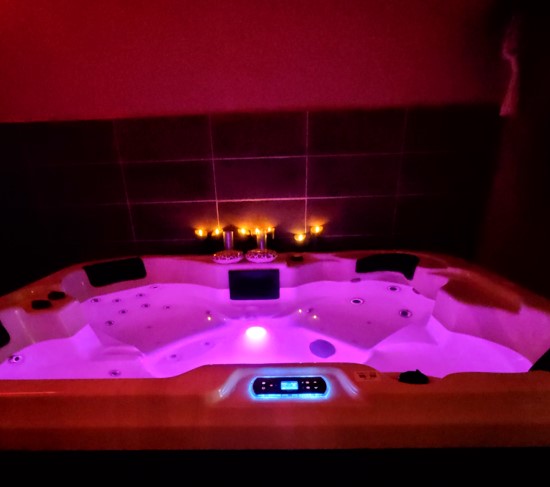 Enjoy our luxury jacuzzi for up to 4 people and let the 52 air and water jets relax every muscle of your body. Let your body float to the relaxing sound of hot water buoyancy. The heat will widen your blood vessels, which sends nutrient-rich blood to your body, while hot 37°C water will loosen your tight muscles. The jacuzzi is also equipped with a circulation pomp and an ozon filter for perfect hygien. Looking for a little personal touch? Add the romantic package and you enjoy the floating candles in the jacuzzi or add the birthday package and enjoy the fancy toy ducks.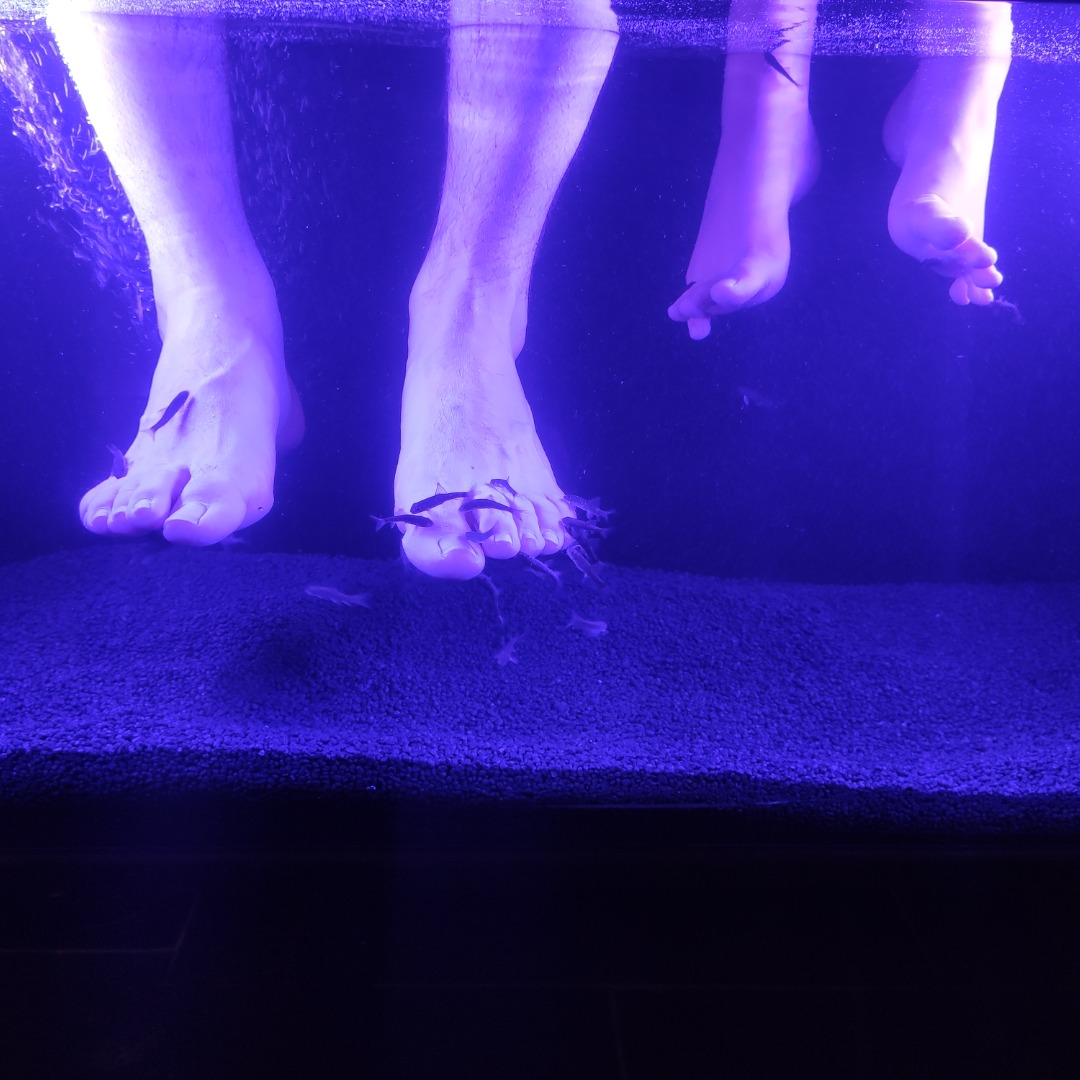 Immerse your feet in this professional fish therapy aquarium and let the 100 little doctor fish – an Asian fish species called Garra Rufa –  look after your feet as a natural pedicure. Don't worry, the fish have no teeth; they actually suck the dead skin off of your feet. Immerse your feet and enjoy: let our doctor fish nibble away the dead skin from your feet while getting gently rocked by the lapping of water, while being seated on our luxury leather pads. Our fish therapy aquarium can welcome up to two people simultaneously, for that perfect romantic moment and/or cheerful experience together.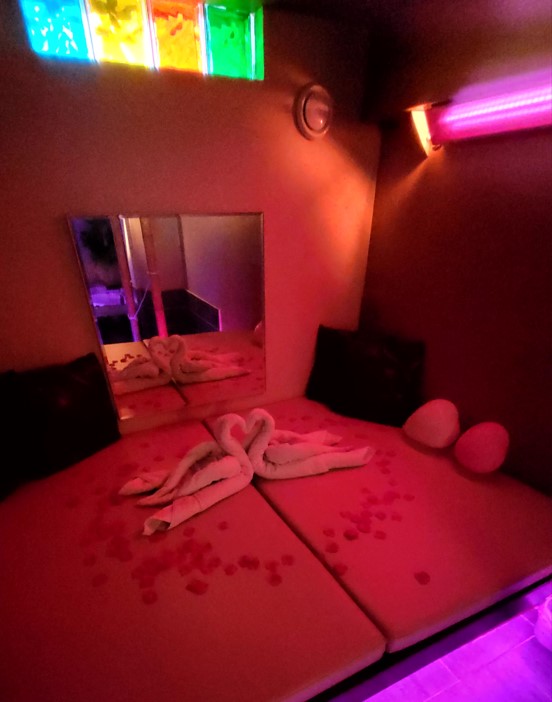 Nothing beats relaxation after a fish spa therapy or a hammam session. Put your feet up and relax, while enjoying our cosy and private lounge in the back of the facility, in a relaxed setting with dimmed lights, pillows and a mirror. Let the sun shine through our tainted glass or enjoy a glass of organic juice or champagne while getting ready for your next hop in the hammam or in the jacuzzi. Your drinks will be ready in the champagne bucket. Looking for some fresh air after the hammam or jacuzzi? Just push the button in the back to allow an inlet of fresh outside air. If you booked the romantic package, the lounge will be sprankled with rose petals and it is here that you will find the towels folded as kissing swans.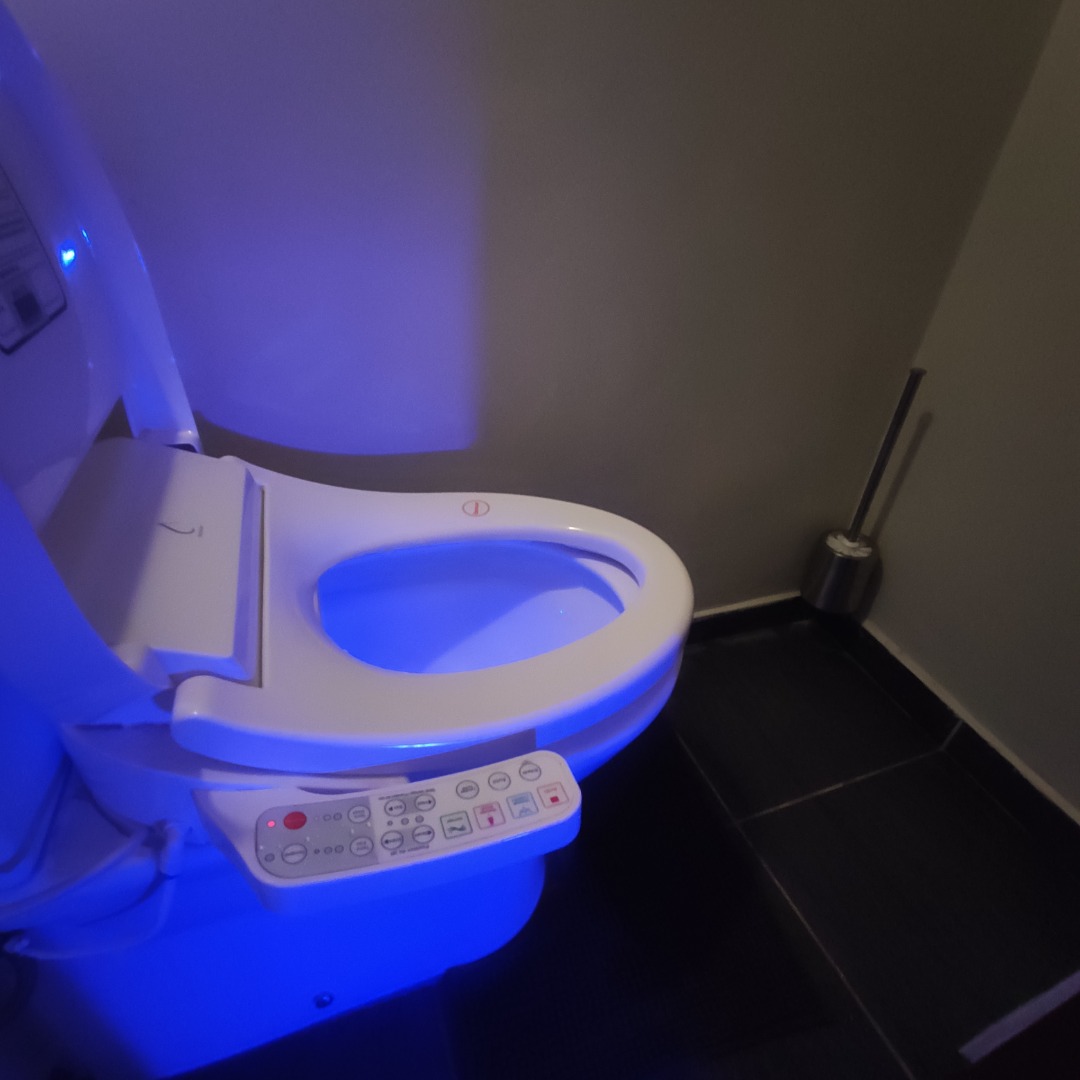 In our private spa, you will even experience unexpected sensations when you go to the toilet. With our state-of-the-art Japanese toilet, you can opt for a cleaning of your private parts with cold or hot water, a heated seat, an integrated dryer and even a massage function which is supposed to stimulate… number two's. That and many more funny gadgets to make your stay here even more uncannily memorable. Take your time to try one of the many buttons on the command panel on the right and try some of the functions, life is short !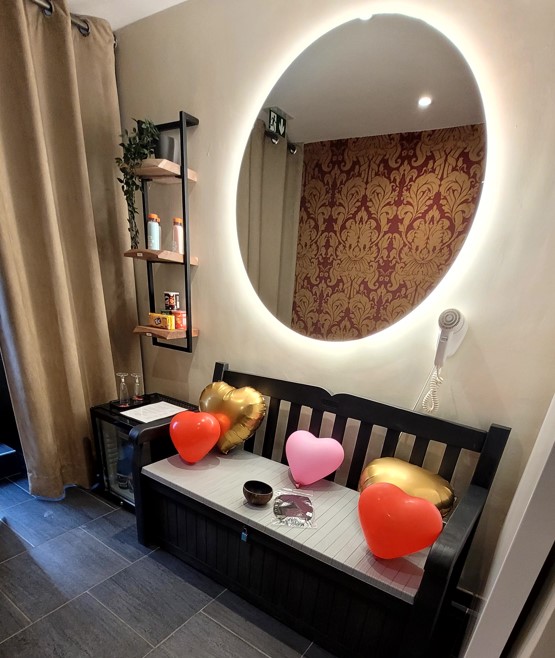 Of course, the spa also contains a shower and changing area in the front part, with a big open Italian marble shower where two people can easily enjoy the hot or cold PowderRain shower (don't miss it, it makes the water incredibly sofrt), and a sofa where to make yourself comfortable. Biological and soft soap and shampoo are available for all our guests, as well as bath slippers and towels. If you upgrade your booking with a bathrobe, this is also the place where you will find your luxury soft bathrobes.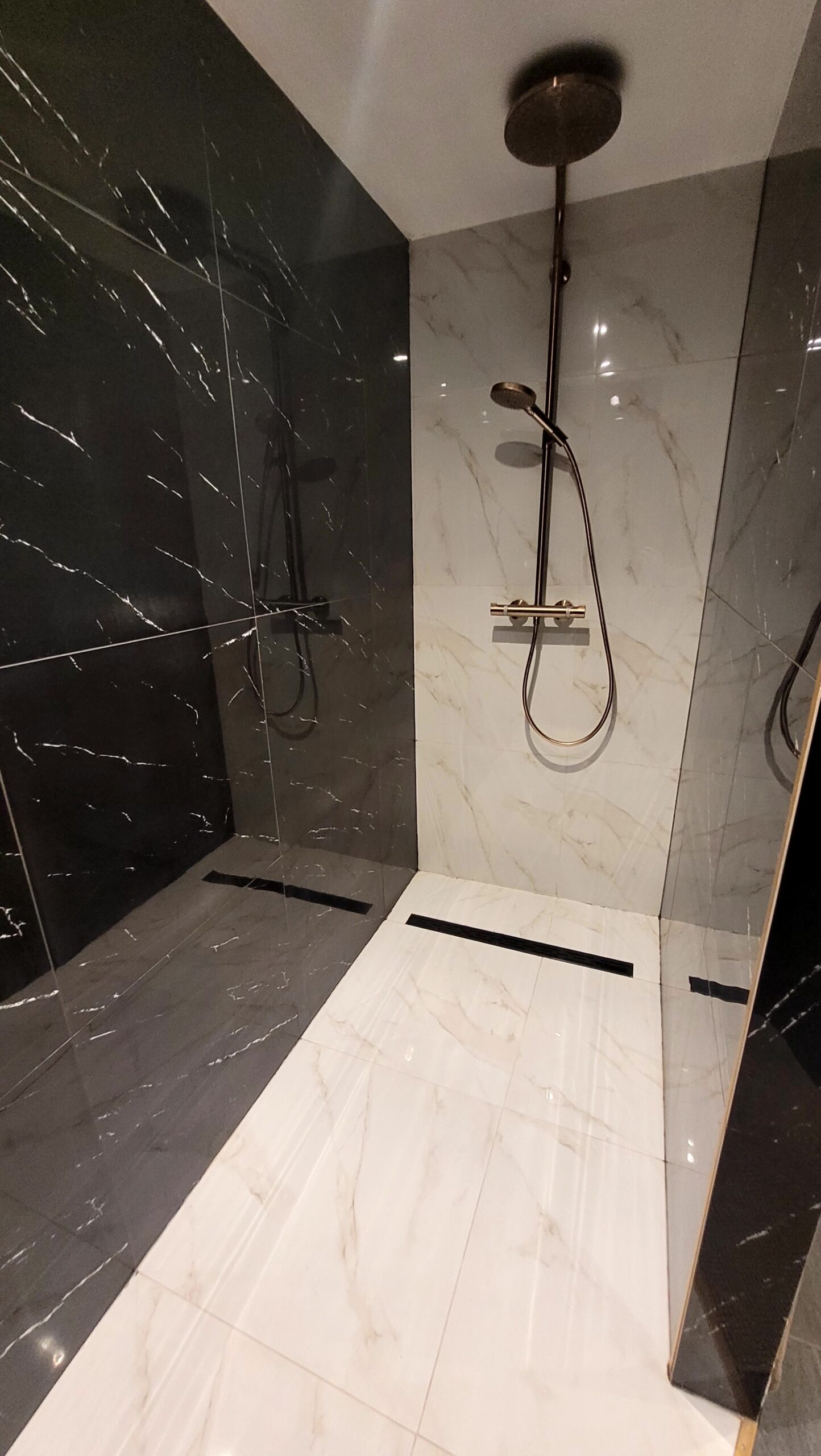 The whole facility is of course thoroughly cleaned and sanitised after each customer. Furthermore, we use a top-notch ventilation system which evacuates dampness and polluted air and brings in fresh air from the outside. The jacuzzi and spa work with a circulation system allowing the whole content of a tank to be cleansed and UV-filtered. The fish pedicure tank too has its own UV-filter that kills bacteria and a standard three-layer filter system to process the water. And please note that we provide a Bluetooth audio system so that you can play your favourite music throughout your booking.
Spa & Lounge 383 was spawned from our passion and dedication to wellness and relaxation and is owned by the Belgian-registered company Eunoia Consult. The name was chosen because 1. it is the number of the house in the street, 2. because the guardian angel 383 is believed to be the angel who tells his protégé to believe in him, which is a message we fully approve too. Enjoy our private spa in Uccle !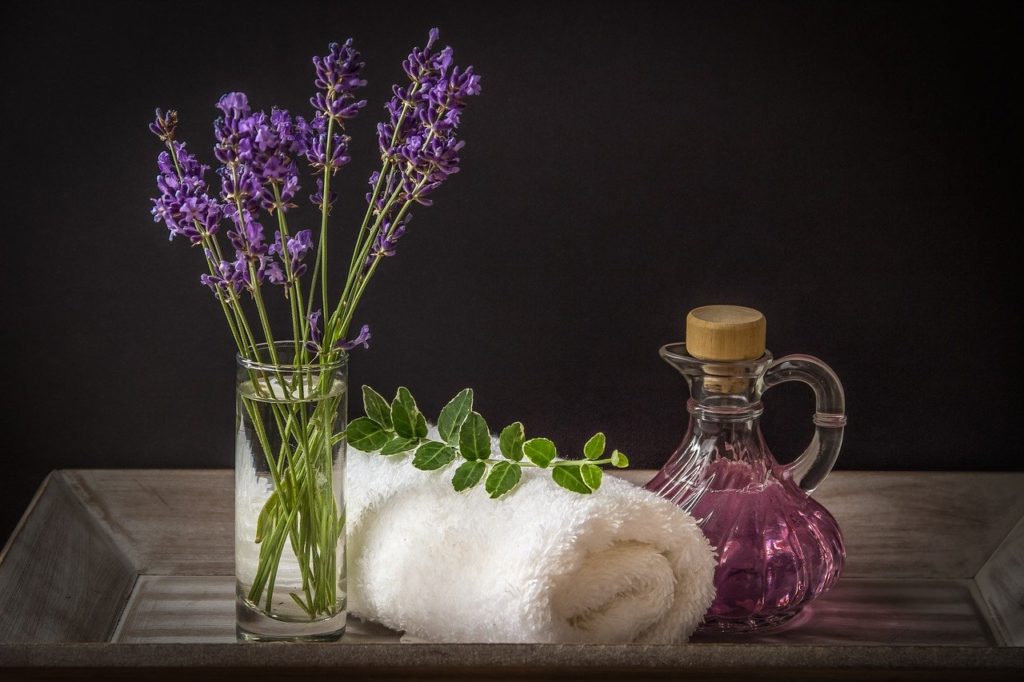 For special inquiries or questions, please contact us by phone, by e-mail or by filling in this contact form.